InsideRadiology, along with The Royal Australian and New Zealand College of Radiologists (RANZCR) is proud to participate in the International Day of Radiology,  an initiative of the European Society of Radiology, the Radiological Society of North America and the American College of Radiology.
The International Day of Radiology is an annual event which is held with the aim of building greater awareness of the value that radiology contributes to safe patient care and improving understanding of the vital role radiologists play in the healthcare continuum.
The event is celebrated on 8 November, which is the anniversary of Wilhelm Conrad Roentgen's discovery of the existence of X-rays in 1895.
International Day of Radiology 2019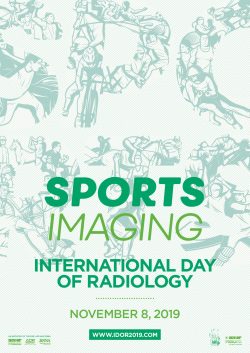 The International Day of Radiology (IDoR) 2019 is 'Sports Imaging'. Musculoskeletal radiology is a fast-growing subspeciality of clinical radiology that plays an increasingly important role in the assessment and management of patients with a wide range of injuries. Sports Imaging forms an integral part of Musculoskeletal radiology. Radiologists play an important role in the clinical management of top athletes as well as of people involved in sports of various levels.
As much as 70% of the population will experience a sports-related injury in their lives. The development of imaging technology has resulted in the superior visualisation of tendons, ligaments, and cartilage, giving increased importance to medical imaging in the diagnosis and treatment of such injuries. Technology advances mean radiology plays a key role in the field of prevention as radiologists can detect problems and abnormalities at earlier stages.
InsideRadiology hosts a range of information items for health consumers and professionals on musculoskeletal imaging and has released two stories from elite athletes in Australia and New Zealand demonstrating the vital role radiology has played in their professional sporting careers.
For more information about International Day of Radiology please visit  www.internationaldayofradiology.com